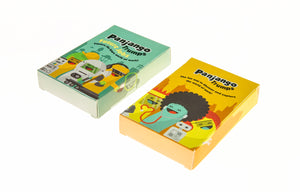 The Trumps Bundle (SAVE 20%)
Sale price Price $206.00 Regular price $257.00
Tax included.
Introduce your students to 50 current jobs and 50 future jobs with the Trumps Bundle!
The Trumps Bundle includes 10 packs of Panjango Trumps and 10 packs of Panjango Trumps: Future Jobs - providing you with enough of each game to get a whole class of 30 students playing at the same time. 
£159 (RRP £199 - 20% discount)
Panjango Trumps is our unique twist on the classic game pits 50 different careers against each other in a battle of stats with trump categories including Brain Power, Social Good and Robot Risk!
Panjango Trumps: Future Jobs allows children to explore 50 weird and wonderful jobs of the future - everything from Rewilder to Robot Repairer, or Martian Botanist to Memory Surgeon!
Each trump card also comes with a Job Description and a Fun Fact to bring the careers to life for young people.
introduces children to new and exciting career options they may not have thought about before
engages the imagination and offers a fun and exciting way to learn about the world of work
helps children understand how the world is rapidly changing - and the new possibilities it will offer
encourages thought and discussion about future life choices between teachers, family and friends
Each of the trumps pack also include Mini Games cards offering extended learning activities using the content of the cards - and a blank trump card for photocopying so students can create their own.